March is National Athletic Training Month (NATM), a month dedicated to raising awareness of who athletic trainers (ATs) are and the impact they have on patient health and safety. Athletic trainers are multi-skilled health care professionals who provide compassionate health care for athletes, patients, soldiers, workers and performers. NATM is sponsored by the National Athletic Trainers' Association (NATA), the professional association for athletic trainers and others who support the athletic training profession. Beginning March 1st, atyourownrisk.org invites the public to celebrate ATs and all of the skills they bring to your sports, work, clinic or school team.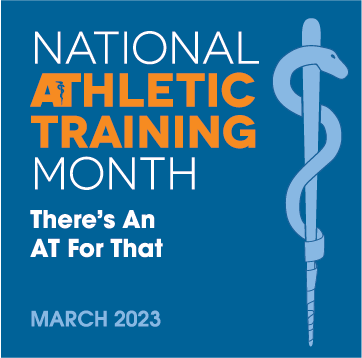 This year's NATM theme is "There's an AT for That," and we have a lot planned for the month. So please join us by first, downloading our NATM logo seen here. Then check out some of the ideas we recommend:
Share Your Appreciation on Social Media
Social media is an easy way to shout out an AT who has made an impact in your life. Take a selfie with your AT. Be sure to tag NATA (@NATA1950) and At Your Own Risk (@ASaferApproach) and use the hashtags #NATM2023 and #TheresanATforthat.
Sample messaging:
Here's how we're celebrating athletic trainers.
Tell us what you love about athletic trainers/athletic training.
Fill in the blank: There's an AT for ___.
Put Your Thoughts in Print or Online
Seek out opportunities to celebrate and raise awareness for the athletic training profession online or in print. School or hospital websites, sports programs, magazines or other printed publications are great vehicles to publish an advertisement to raise awareness. If your organization has a digital publication, blog or newsletter, consider including information about NATM and encourage others to celebrate the ATs in their lives. Display posters or advertisements on signage available to you (bulletin boards, billboards, locker room displays, etc.)
Think Big. Think Jumbo.
Do you have a jumbotron, electronic scoreboard or other electronic sign at your disposal? Use it to publicly appreciate your athletic trainer during a timeout, halftime or even the entire month of March. Bonus points if you ask your PA to have the crowd give your athletic trainer a round of applause during the game! No jumbotron? No worries. Think about what options you have access to and use those instead. Examples include placing a banner ad on your website or hanging a poster in your facility. Even smaller recognitions are extremely meaningful.
Tell the Press
If you don't have an athletic trainer, or you think you need more, reach out to your local newspaper to get your argument across in an Op-Ed or letter to the editor. Additionally, if you have an athletic trainer you would like to celebrate, take out an ad or work with your school to place a feature story. Make sure that in all communication, you always say "athletic trainer" and not "trainer." Download our Ingredients for a Successful Press Story: www.nata.org/sites/default/files/natm2021_-_ingredients_for_a_successful_press_story.pdf.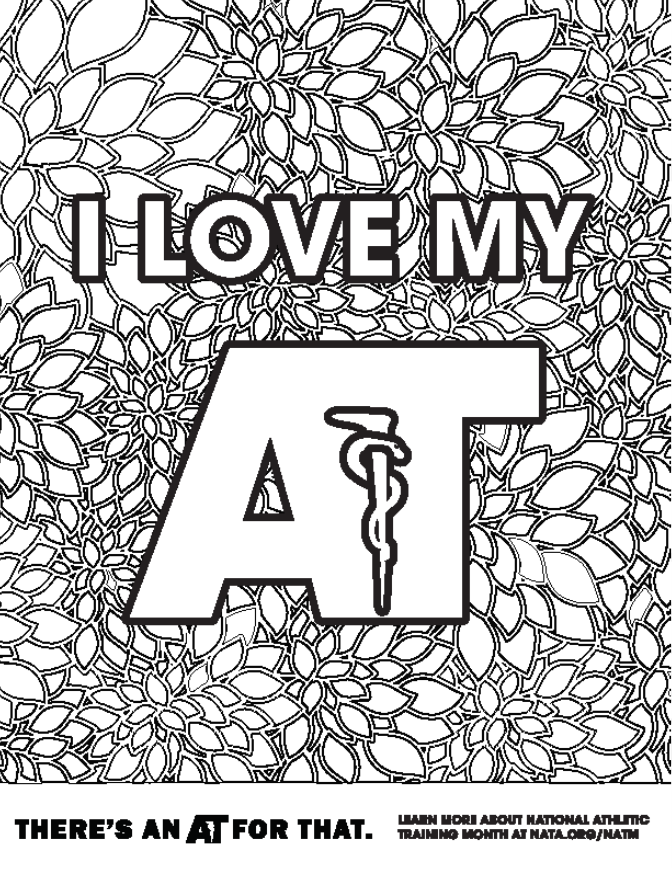 Add a Personal Touch
There are so many ways to thank athletic trainers during National Athletic Training Month, and a little goes a long way. Send an email or a handwritten note. If you work with an athletic trainer, show up for an early morning rehab session with fresh coffee and a pat on the back. Print out our coloring pages and give them to an AT. and Call them on the phone just to say thanks. Taking time to recognize athletic trainers, however you choose to do it, shows your sincere appreciation for the role they play within health care.
Additional Resources
Click here to learn more about National Athletic Training Month. If you're looking for more resources and ideas on how you can celebrate athletic trainers during NATM, find all the assets you need to make NATM great!

NATA appreciates your ongoing support of the athletic training profession. If you have information about another awareness effort, please share that information so NATA can reciprocate our support.
ABOUT ATHLETIC TRAINERS
Athletic trainers play a critical role in helping youth athletes have a healthy and safe sporting experience. Athletic trainers help educate parents, athletes and coaches about the risks of overuse injuries, importance of rest and proper nutrition and hydration. Additionally, athletic trainers are health care providers on site. They can address improper techniques to reduce the risk of injury, or address a small injury to prevent it from becoming something more.