Athletic Trainers in Occupational Health
In the occupational health setting, athletic trainers develop and manage programs designed to keep employees working at full capacity and improving company productivity. ATs can even help reduce health care and insurance costs. 

"Everyone benefits when a company employs athletic trainers as part of an injury prevention program: the company saves money and employee time while the employees see improvements to their health and wellness."

Jose Morales, MA, ATC, CEAS, Safety Specialist at Toyota
Athletic Trainers Reduce Risk of Injuries in the Workplace
Companies that employ athletic trainers report a decrease in costs associated with workplace injuries by more than 50%. The unique combination of an athletic trainer's skills in injury prevention, rehabilitation, education, and fitness/wellness can reduce workers' compensation costs while promoting a healthier workforce.
In conjunction with a workplace physician, an athletic trainer can run an on-site clinic, thus reducing lost work spent traveling to off-site rehabilitation.
Athletic trainers are often able to address both work-related and non-work-related injuries on-site, with proper physician referral and supervision. Athletic trainers can help employers reach their safety goals and impact their bottom line.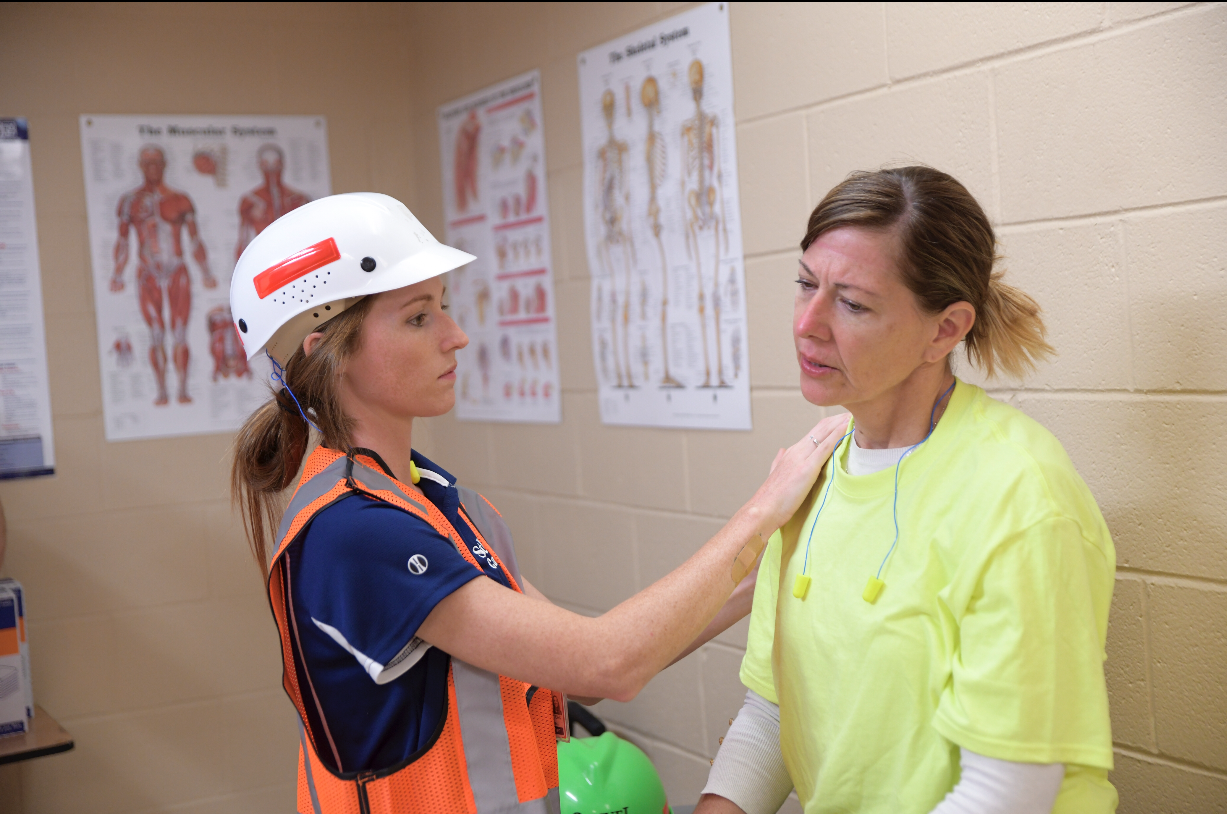 Roles and Responsibilities
The occupational athletic trainer is knowledgeable in the design, implementation and measurement of injury prevention, injury reduction and return-to-work programs.
Assist in the screening of COVID-19 Symptoms.
Perform temperature or blood pressure evaluations.
Assist in developing and instituting hand wash parameters and face mask application.
Assist in telemedicine with monitoring of employee's symptoms. Use telemedicine, as state practice act allows, to collect information on the progress of employees in physical therapy. The information can better inform the industry on the return-to-work potential of all employees outside of the COVID-19 influence.
Assist in the supervision of safety rounds or compliance rounds for the company.
As health care professionals, athletic trainers must abide by the regulations outlined in the statute of the state in which they are practicing. In conjunction with the state practice act, the athletic trainer's individual education, training and skillset determines their unique scope of practice. 
AT's unique skillset and education that combines injury prevention and rehabilitation with emergency care makes the AT an ideal candidate to provide health care to industrial employees.