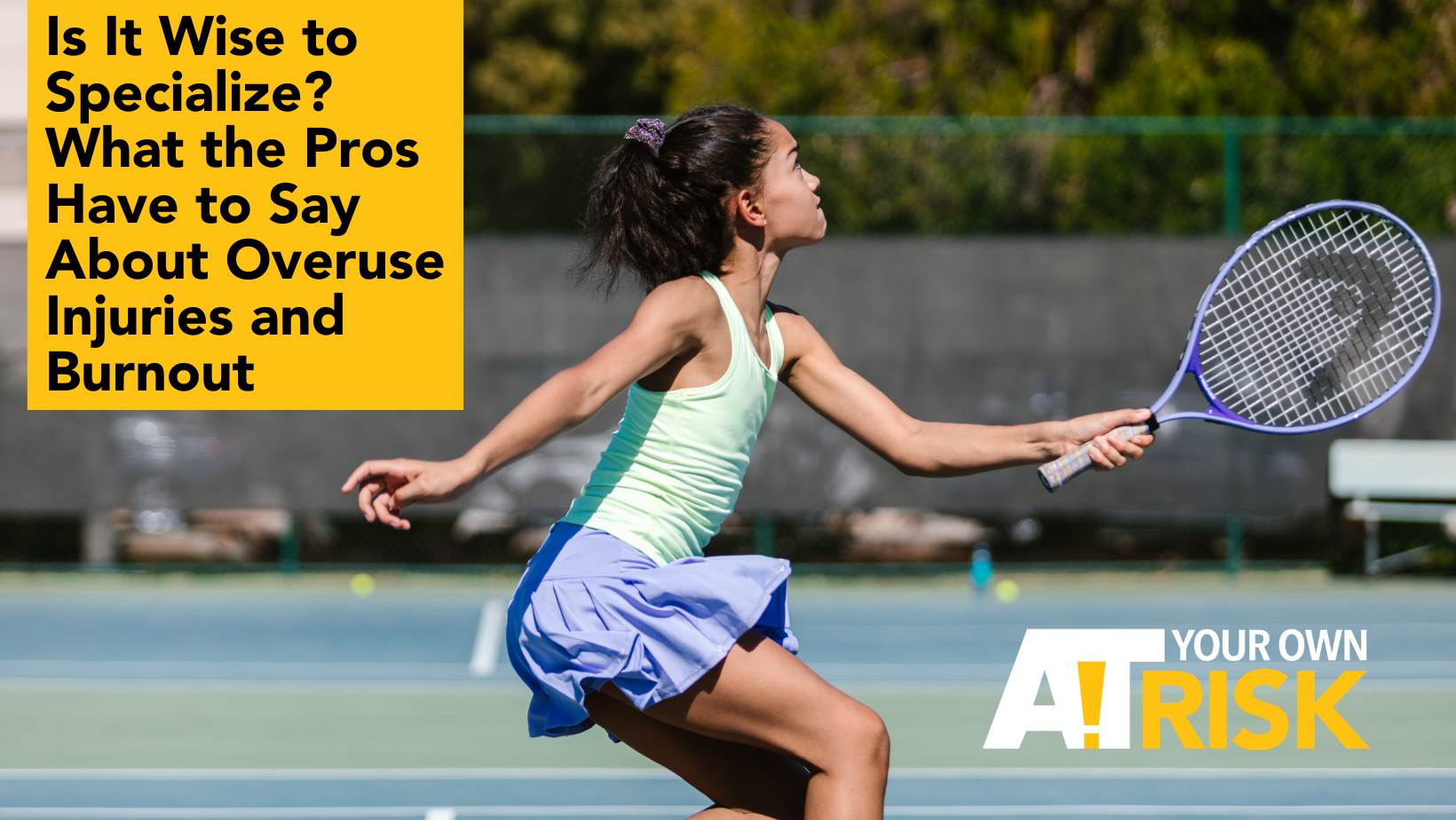 NATIONAL ATHLETIC TRAINERS' ASSOCIATION
TO HOST VIRTUAL MEDIA BRIEFING: IS IT WISE TO SPECIALIZE? WHAT THE PROS HAVE TO SAY ABOUT OVERUSE INJURIES AND BURNOUT
FRIDAY, OCTOBER 21, NOON-1:00 PM CENTRAL TIME
WHAT/WHY
With the start of the fall youth sports season fully underway, young athletes may be pursuing activities they like best, but with too much specialization comes the risk of injury.
To ensure safe sports participation, the National Athletic Trainers' Association is hosting a virtual media briefing, Is It Wise To Specialize? What the Pros Say About Overuse Injuries And Burnout, to wrap up Youth Sport Specialization Awareness Week (October 17-21).
If you are a member of the media and would like to participate please register here.
The general public can log onto FACEBOOK and At Your Own Risk, the public facing arm of NATA, that afternoon for full access.
WHO
A panel of interdisciplinary health care and medical experts, moderated by NATA President Kathy Dieringer, EdD, LAT, ATC, will address the latest trends and guidelines specific to youth sport specialization. The public will also be invited to attend on FACEBOOK.
Panelists include:
Neeru Jayanthi, MD, Associate Professor Orthopedics and Family Medicine; Director Emory Sports Medicine Research and Education; Co-director Emory Youth Sports Medicine Program; Director, Emory Tennis Medicine, Emory Sports Medicine Center
Michele LaBotz, MD, FAAP, Board Member, Maine chapter, American Academy of Pediatrics; Assistant Clinical Professor, Department of Pediatrics, Tufts University School of Medicine in Boston; sports medicine physician, InterMed, Portland, Maine
Tamara Valovich McLeod, PhD, ATC, FNATA, Chair, Department of Athletic Training, Professor of Athletic Training, Research Professor in the School of Osteopathic Medicine; John P. Wood, DO, Endowed Chair for Sports Medicine, A.T. Still University (Mesa, Arizona)
WHEN
Friday, October 21
12 noon-1:00 pm Central Time
Via ZOOM
CONTACT
Robin Waxenberg
Robin Waxenberg & Associates
917-301-1350
robin@robwax.com
For more information on reducing risk from sport specialization visit www.atyourownrisk.org
Resources
About NATA: National Athletic Trainers' Association – Health Care for Life & Sport
Athletic trainers are health care professionals who specialize in the prevention, diagnosis, treatment and rehabilitation of injuries and sport-related illnesses. They prevent and treat chronic musculoskeletal injuries from sports, physical and occupational activity, and provide immediate care for acute injuries. Athletic trainers offer a continuum of care that is unparalleled in health care. The National Athletic Trainers' Association represents and supports 40,000 members of the athletic training profession. Visit nata.org for more information.
About At Your Own Risk:
The mission of At Your Own Risk is to educate, provide resources and equip the public to act and advocate for safety in work, life and sport. Developed by NATA in 2016, the At Your Own Risk campaign is a way of showing employers, workers, legislators, school administrators, parents, and student athletes the value of athletic trainers within the health care team. By employing an athletic trainer, you provide a safer approach to work, life, and sport.
For Public Relations and Press Inquiries:
Please contact the public relations manager at pr@nata.org for information about At Your Own Risk.